Welcome to Tea Dunking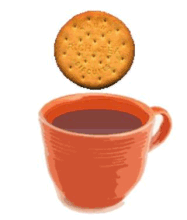 Thanks for stopping by our site dedicated to all things dunking-related.
This site was created a while back when we discovered that there was no site covering key biscuit-dunking related activities, and to encourage discussion of a much-needed National Biscuit Dunking Day.
We hope you find the articles and information on this site of use. We'd encourage you to have a read, and if you're a fan of tea dunking, sign up to our Facebook page.
While you're here, take our Tea Dunking Survey, and perhaps follow us on Twitter or Facebook
The table above shows what your favourite biscuits are for dunking, based on your votes in so far. If you have any thoughts on what goes in to the perfect dunking experience, please get in touch.

Happy Dunking Everyone!