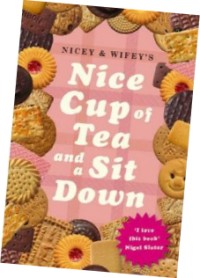 With biscuit dunking being such a huge part of British culture, you'd think that there'd be forests of books on the subject of how to enjoy the perfect dunk, but oddly, we're lacking in decent dunking documentation.
The best book discussing the raw ingredients, tea and biscuits, is the rather sweet little "Nice Cup of Tea and a Sit Down", pictured to the right.
Writted by Nicey and Wifey, this book weighs in at 179 pages. Here's the blurb that's offered up to support this tome:
"This wonderful new book is a celebration of that most British of life's cornerstones: taking a break, putting your feet up and having a breather. There is, however, a third element that any perfect sit down requires and it is this: biscuits. As Nicey so rightly points out, a cup of tea without a biscuit is a missed opportunity. Finding the right biscuit for the right occasion is as much an art as it is a science, and it is a task that Nicey has selflessly worked on for most of his tea drinking life. From dunking to the Digestive, the Iced Gem to the Garibaldi, everything you'll ever need to know about biscuits is in this book, and quite a lot more besides. Is the Jaffa Cake a cake or a biscuit? And have Wagon Wheels really got smaller since your childhood, or have you just got bigger? Unstintingly researched, Nicey and Wifey's Nice Cup of Tea and a Sit Down does exactly what it says on the biscuit tin. So go on. Take a weight off, put the kettle on, and enjoy."
So there – if that doesn't encourage you to whip out your credit card and buy a copy immediately, then you're just not taking tea dunking, or this website, seriously.
If you want to avail yourself of a copy, you can order it from Amazon.co.uk or your local book emporium for the price of two cups of tea and some biccies at a high street coffee shop.
Nice Cup of Tea and a Sit Down ISBN: 0751537659