About Tea Dunking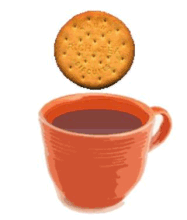 The idea for a tea dunking website originated from a discussion between Pete Sipple and Vincent Savory, one quiet Wednesday lunchtime, with a packet of digestives.
Dunking a biccie in a nice hot cup of tea is one of those marvellous pleasures that makes life feel OK again, and we felt that a site dedicated to the art of dunking was much needed. Amazingly, the web domain teadunking.co.uk was free, so we snapped it before someone else did.
This is a non-profit website, and we welcome contributions from any tea dunkers that have something to say on the subject.
We hope you find the site of interest, and would welcome your feedback!